Protection for the Whole Family
What does it mean Medsilica-Enterosgel Protection?
Enterosgel Protection is a way to insure our customers that all investments (spending's) in Enterosgel would value for all families in New Zealand and Australia. We insure our customers that all unopened Enterosgel tubes will be replaced for another 3 years protection without any extra payment. We wish that our customers would never regret investing money to Enterosgel Protection.
This is our next step to say THANK YOU to all our loyal customers.
What unique extras can be offered by Medsilica-Enterosgel?
Medsilica-Enterosgel (in the home and via affiliated distributers, pharmacies or other channels) offer a time infinite family protection. All medical products have an expiry date and after that date most customers feel that they have wasted their money having bought a product that they have never used.
We now have a novel way of protecting our customers' investments in Enterosgel. We offer our customers to buy Enterosgel that has 3 years shelf life from the date of manufacturing, keep it as an emergency first aid for stomach disorders. After this shelf life has expired, all Enterosgel unopened packages will be replaced for another 3 years protection without any extra payment. There are also free delivery options.
Remember, Enterosgel is suitable for babies over 1 year old, children, adults, pregnant and breastfeeding mothers. One product for the whole family!
An example comparing Enterosgel Protection Insurance with others.
Peter bought Health Insurance for $20 per month. When camping with his family they all had stomach upsets after eating tainted sausages. Within an hour they got to a hospital but that hour had allowed harmful toxins to grow rapidly and badly upset their digestion processes. Their health insurance covered their hospital expenses, but it took three more days to fully recover. Three wasted days!
"Enterosgel Insurance" provides physical protection by a tasteless, molecular organic compound sponge-like gel.
When you are travelling, on vacation or camping use Enterosgel before or immediately after you have the first tiny symptom of gut disorder. Remember, timing is paramount!
How much Enterosgel is needed for Protection?
We advise all families in Australia and New Zealand to have Enterosgel in their First Aid Kit as a novel emergency gastrointestinal protection. The Enterosgel 90g tube retail price is $29.99. Each contains up to 6 single 15g doses of Enterosgel which is sufficient to prevent repeated toilet visits if used before or immediately after the first symptoms of stomach illness.
Why is Enterosgel Protection unique?
All other medical insurances are designed to pay for a protection for a certain time. In other words, all other insurances subsequently compensate for the negative effects from illnesses.
Medsilica-Enterosgel "Free Insurance" is designed to protect customers from early stage illnesses.
What is Enterosgel and what is it for?
Enterosgel is a molecular organic compound sponge-like a gel that has no artificial ingredients. It is designed to bind toxins in the gastrointestinal tract and eliminate harmful substances, pathogens and allergens from the body.
The Medsilica Enterosgel aim is to improve the health of all New Zealanders and Australians.
Our aim is to:
Protect families from gastrointestinal illnesses.
To quicken recovery from illnesses.
Medsilica Enterosgel introduces this beneficial offer to New Zealand and Australia customers.
Enterosgel Insurance is the most valuable protection from gastrointestinal disorders for the whole family.
The Timing of this help is paramount.
In gut disorders, the timing of that help is paramount. To prevent serious illness, early intervention is of the utmost importance.
 More details about how Enterosgel works.
Enterosgel has a porous structure in the form of a solid, spatially crosslinked silicone matrix with predetermined pore sizes. So, Enterosgel has pronounced sorption-detoxification properties and exercises selective action, providing sorption of predominantly medium-molecular toxic substances.
It also absorbs high molecular weight toxic substances (e.g., bacterial toxins (daily dose of Enterosgel binds 410 mg of endotoxin)). The high viscosity of Enterosgel allows firmly binding and the retaining of absorbed substrates.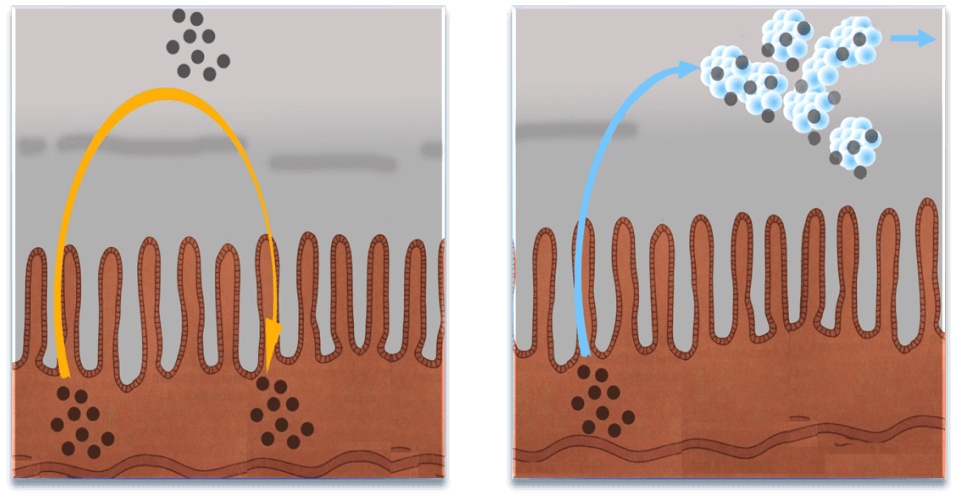 Enterosgel has a protective action. Elastic gel-like viscous particles of the medication form a protective layer and protect the tissues from the effects of various damaging factors.
 Particles of Enterosgel form a protective layer on the surface of the intestinal mucous

Mucosal layer (mucosal gel, mucin layer). Mucus fills the space between the intestinal villi.
A film of gel particles of Enterosgel on the surface of mucus.
Intestinal crypts.
Enterosgel has a high ability to adhesion (fixation) to the mucosa of pathogenic microflora. Electrostatic interaction of Enterosgel with pathogenic microflora leads to destruction of the latter. Normal microflora does not interact with Enterosgel (low ability to electrostatic adhesion).
Why do we need to buy Enterosgel for our families?
Enterosgel mitigates or prevents toxic and allergic reactions.
It helps stop diarrhoea or shortens its duration. It can be used for a treatment of diarrhoea – Viral (norovirus, rotavirus), Bacterial (E-Coli, food poisoning), Travellers' diarrhoea, diarrhoea associated with taking antibiotics or other medicines, Food allergy related diarrhoea, IBS and diarrhoea after radiotherapy.
It relieves symptoms of indigestion (dyspepsia).
It helps stop poisoning, including alcohol and narcotics intoxication.
It helps restore beneficial intestinal microflora.
It protects gastrointestinal mucous membrane and promotes healing of its lesions.
It reduces the toxic load on the liver and kidneys.
Enterosgel is based on an organic mineral.
This product is unique, it does NOT contain sugar, sweeteners, lactose, gluten, fats, colouring, flavourings, preservatives or other additives. It is non-allergenic.
Enterosgel is suitable for vegetarians and vegans;
It does NOT adsorb nutrients (including vitamins, macro- and micronutrients);
Enterosgel is eliminated in an unchanged form from the gastrointestinal tract along with adsorbed toxic substances within 7-12 hours;
It taken orally and is NOT absorbed from the gastrointestinal tract and is not metabolized.
Enterosgel is NOT contraindicated to patients with diabetes (product is sugar-free);
The product is NOT contraindicated to patients with peptic ulcer;
Enterosgel is NOT contraindicated to patients suffering from allergic diseases;
Clinically proven (more than 400 studies).
Suitable to children from 1 years and adults (including pregnant/breastfeeding mothers).
Shelf life 3 years from the data of manufacture release. (See 'free replacement' above).
OTC product.
No systematic side-effects.
Can be taken in conjunction with other medication.
Enterosgel has the highest level of assurance from World Anti-Doping Agency (WADA) that it is safe for Olympic athletes to use.
Enterosgel® is a patent of Swiss company Bioline Pharmaceutical®.
Registered in New Zealand and Australia.
Presented in 40 countries.